How Digital Display Marketing Can Benefit Your Restaurant
Everyone has experienced wait times at a restaurant and even with an efficient staff, sometimes they're unavoidable. But, much like utilizing video marketing in waiting rooms, a restaurant lobby is the perfect place to implement a direct video feed that can entertain and inform your waiting guests—while also promoting your business.
Digital Display Marketing in Your Restaurant Lobby
86% of marketers say that video helps increase brand awareness, showing continued, impressive results for this marketing format. Communicating your business' purpose to the consumer base is imperative because it establishes a sense of trust and confidence. Plus, video marketing receives a positive response online, so you can easily utilize the content created for your display video loop on your restaurant's website and social channels, expanding the useful reach of this content.

Restaurant Marketing Ideas for Direct Video
Promoting important information such as the hours of operation or current specials can help guests better understand their options. Providing a positive experience from the moment they enter the establishment can ensure a happier customer—and there are a number of ways restaurants can promote themselves through direct video. 
Menu & Specials
Restaurants have a lot of information that they want their customers to know, including one of the most important aspects: the menu. By having a loop highlighting your current menu, waiting customers will be able to decide what to order before they even sit down. This keeps your customers engaged during their wait—and potentially cuts down the time a table is occupied, increasing turnover rates. 

Promote Your Restaurant's Social Channels
Looking for more restaurant marketing ideas? Consider promoting your business' social channels through direct video! Include the logos of the channels your restaurant is present on and a call-to-action asking customers to follow, like and share your social media content. Add a live feed of your social accounts so customers can see what people online are saying about your restaurant. And, this can encourage people to visit your social channels and create their own posts. 
Product Promotion
If your restaurant sells its own products, include them along with the prices in the video loop—but remember to keep it friendly and informative, not a direct sales pitch. Encourage guests who purchase products or apparel to take a photograph that can be showcased through the video feed. This can help create a fun and entertaining story your guests will want to watch. 
Employee Spotlight
Another engaging video tactic is to highlight the restaurant's current staff. Showcase your employees with short biographies on who they are, how long they've been with the restaurant or even their favorite item on the menu. A short video of the restaurant's history and mission can additionally help humanize your company, giving customers a look inside of what kind of business you are.

Fun Facts and Trivia
Including video clips of generally entertaining fun facts or trivia in your video feed can engage waiting guests of all ages. Include multiple choice answers, and be sure to have a large variety of questions so your audience will continue to be entertained.
Train Staff with Direct Video
Video marketing software is useful to promote your business to your customers, but you can also use it to educate your staff. Video is a versatile source for information that can be utilized not only for ongoing employee training but onboarding processes like orientation and introductory materials for new hires, as well. Station a screen in your employee breakroom or kitchen area so your staff can easily view new training materials or keep up-to-date with real-time information about your restaurant. And, because 65% of people learn visually, utilizing a video marketing software platform provides a more engaging way to help employees retain information. 
Whether your staff is big or small, utilizing video to train employees can reduce the overall cost and be a great tool to ensure your materials are consistently reaching every employee. 
How to Begin with Digital Display Marketing
If digital display marketing sounds beneficial to your restaurant but you don't know where to start, allow KONVERT™ TV to give you a hand! KONVERT TV's digital display marketing platform can encompass all your desired content into one feed to be played on an Apple TV. You can access and deploy your content from anywhere, using any web-enabled device. KONVERT TV comes with a featured videos and images widget, a sidebar for additional rotating images and text and a scrolling ticker for news and announcements. As a completely customizable platform, KONVERT TV allows you to tailor your content to your desired audience for optimal engagement.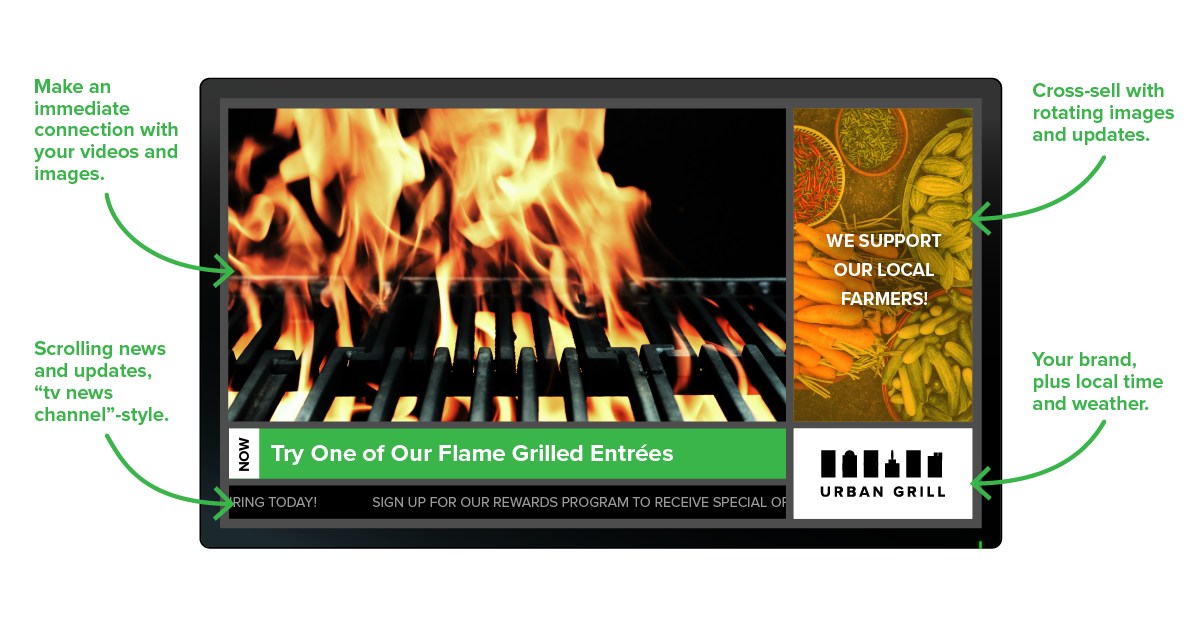 And, if you're unsure of how to create your own marketing material for your video loop—or would just like some guidance—our marketing affiliate, Concentrek Group, is experienced in creating engaging and informative brand content.
Optimize Your Restaurant Marketing Plan with Direct Video
At KONVERT™ TV, we are dedicated to helping you successfully engage and entertain your restaurant audience with video marketing software. The KONVERT TV platform is an easy-to-use, cost-effective direct video marketing tool that allows you the customization you need for your restaurant and hospitality audience. Contact us today to get started!
86% of marketers say that video helps increase brand awareness.