How to Best Promote Your Brand at a Trade Show
Marketing your brand at a trade show can help drive increased leads—but only when your booth is properly organized. Be sure to optimize your time and budget when you attend a trade show to help your company reach its goals, and discover how branded video can help with success.
Before the Show: Promoting Your Brand
Leading up to the trade show is an imperative time for attracting attendees and potential leads to your booth. Make sure your team takes the proper steps for engaging with people prior to the start of the trade show.
Make a Plan
No marketing or promotional initiative can succeed without a proper plan in place. The best place to start is understanding the goals of trade show attendance. Are you looking to gain more leads? Or simply maintain brand awareness? Whatever the overarching goal is, it should be considered in all aspects of planning. Make sure that roles are assigned to the appropriate team members for all of the necessary tasks and set up regular check-ins to ensure everyone is on schedule. Having a plan in place and a well-organized team is the best starting point for trade show success. 
Send Personalized Emails
Reach out to relevant customers from the attendee list before the show with personalized emails and invite them individually to your booth. The attendees have the power to invest in your brand, so make sure they feel special and noticed. You could even set up meetings ahead of time to ensure that they stop by your booth.
Utilize Social Media 
Leading up to the event, share posts that invite people to engage with you, and be sure to include your company's specific booth number. Make it easy for people to know you're attending and where they can find you to help improve your in-person interactions with leads and customers. If you have the time and budget, develop some content to share socially that will let people know what they can expect from your booth, including what you'll be showcasing and discussing. One of the best ways to optimize your presence at a trade show is to build hype leading up to it—get people excited to interact with you and learn from you. 
Remember: Always incorporate the event hashtag to become part of the curated content from the show to help further increase your reach.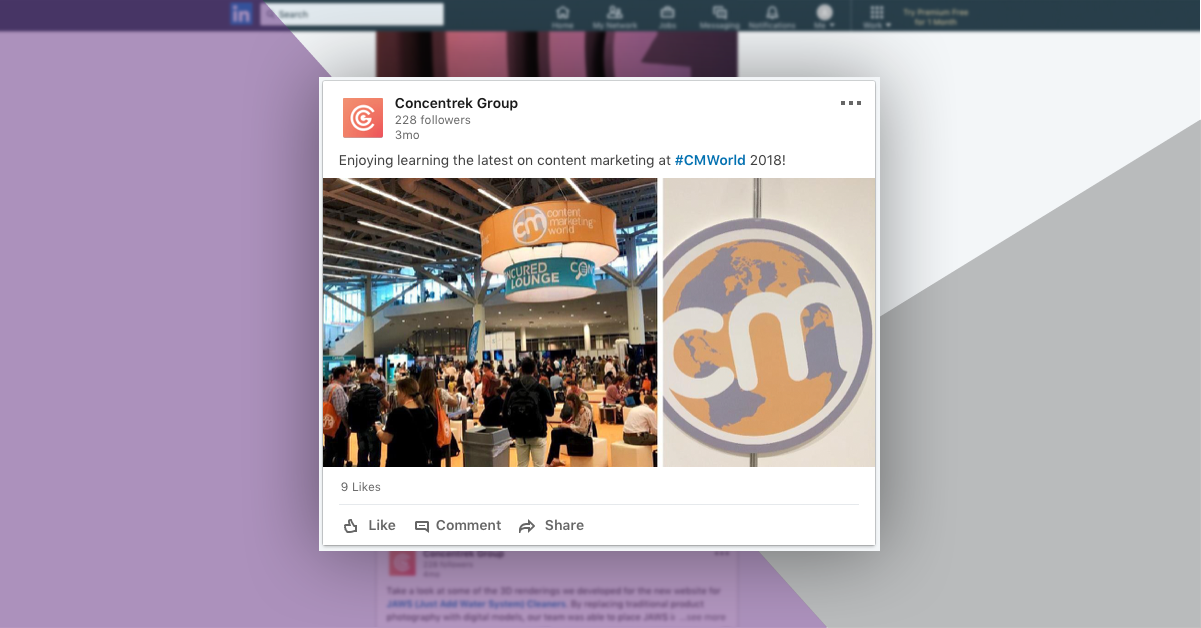 During the Show: Engaging with Branded Video
While there are a number of ways to best engage with customers before and after the show, branded video is a key player in engaging people during the show. Video offers a number of benefits for communicating in an informative and engaging way with current and potential customers. 
So, what are the benefits of incorporating video into your trade show booth?
Promotes upcoming products or new services
Improves brand awareness
Helps to draw people into your booth
Explains the goals and mission of your company
Offers the ability to share customer testimonials or review
It's important, though, that any video that is being showcased is high-quality and well thought out. This video is a representation of your brand, so it's critical that you spend the time and budget on developing content that aligns with your brand's style, goals and target audience. 
A display monitor with customized video is a strong way to grab attendees' attention. When we worked with Sonendo®  to design their booth for the American Association of Endodontics' annual meeting, we incorporated KONVERT™ TV, helping them to better showcase the GentleWave® System.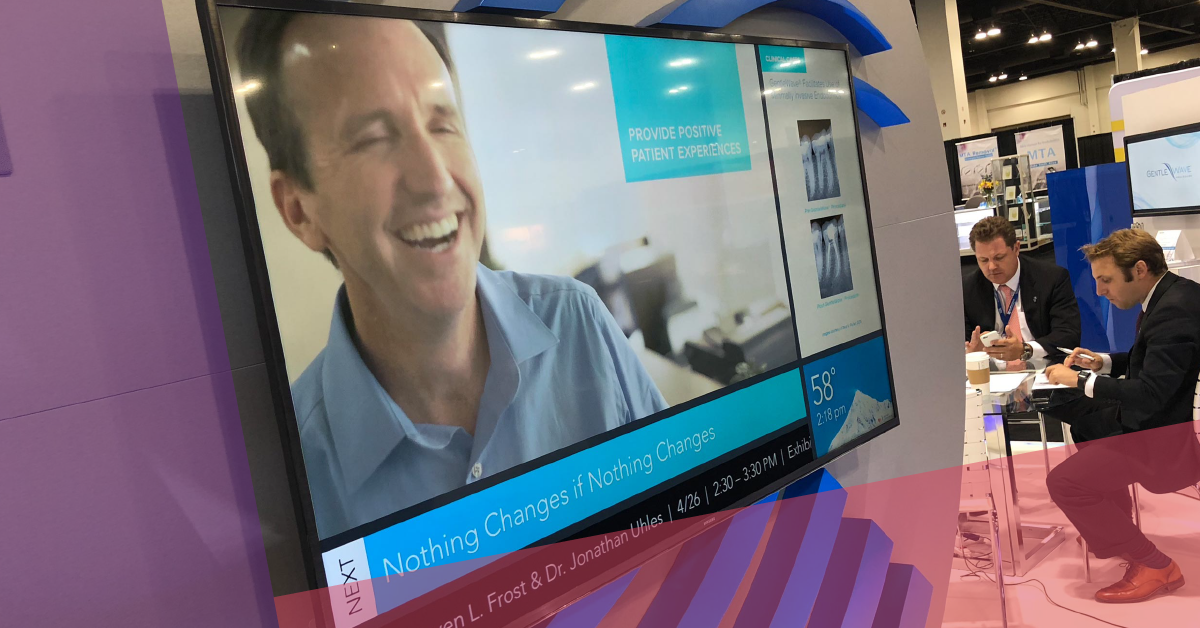 We used a mix of video content and static images and provided different types of subject matter for prospects to watch while in the booth to help promote a variety of content for Sonendo. This content ranged from results-based information that shows the efficacy of their product to testimonials from current customers to in-depth technical videos about their technology.
Developing high-quality and engaging video is half the battle, though. You also need to ensure that it's optimized for use at a trade show specifically, taking into consideration the environment it will be displayed in. 
Make sure that your video is set up in an easy-to-see way. Having a large screen that's positioned correctly will help ensure your content is accessible to attendees, which will ultimately expand your reach and engagement to greater distances.
Another thing to consider? The noise. Trade show floors tend to be noisy places, so make sure that your video content is still accessible—even if it can't be heard. Utilizing captions in your video content is one solution that can help you engage and educate people passing by, even with all of the loud noise surrounding your booth. You can also offer addendum printed materials that outline the key points from the video for improved interaction and usability. 
To continue promoting your presence during the trade show, take short clips from the video you're displaying and tease them on your company's social media platforms throughout the show. It's also useful to document your experience at the trade show, including pictures and videos, so that you can share your experience on social media and potentially utilize the content in future trade show communications. 
After the Show: Keep Your Brand Top-of-Mind
While the trade show itself may only be a day or two, your ability to capitalize on your presence after the show extends much further. 

Follow-Up Promptly
Did you gain new phone numbers or email addresses at the trade show? Your team should follow-up promptly with a short communication. It can be as simple as a quick thank you email or phone call to show your appreciation—and help keep your company top-of-mind. 
If it feels appropriate, have your team utilize LinkedIn and send connection requests to relevant attendees. Connection requests should be personalized, acknowledging specific details of the interaction at the trade show and helping answer any outstanding questions that may exist. But, LinkedIn should only be utilized if it feels appropriate. There isn't a benefit to connecting with people your team minimally interacted with, as it can dissuade a potential lead instead of engaging him or her. 
The key, though, is ensuring any direct follow-up is done within a couple weeks of the show for best results.
Offer New, Helpful Content 
Have members of your team take notes on questions they were asked or discussions they had during the trade show and develop educational blog content around them. This helps let your current and potential customers know you were listening—and you're willing and able to help. Plus, utilizing additional content post-show will help continue your influence and opportunities to engage with potential customers, even long after the trade show has ended. 
Ready to Optimize Your Trade Show Booth?
The name of the game at trade shows and promotional events is to attract and engage attendees. You want to market your business better, and we want to help. In conjunction with our marketing affiliate, Concentrek Group, KONVERT™ TV can offer your brand the content needed to best engage your customers before, during and after the trade show. Get in touch with us today to learn more! 
Having a plan in place and a well-organized team is the best starting point for trade show success.